about me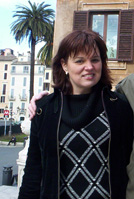 Joan Rothenbucher
Joan has been interested in Landscape Design since childhood. She earned a Bachelor's of Landscape Architecture from Syracuse University, which included project work in Genoa, Italy.
After building experience in government and private landscape design, she started Joan Rothenbucher Landscape Design in 1990. Ever since, her focus has been designing and installing residential landscapes throughout Fairfield County. Her long experience includes hundreds of designs, in a variety of styles, for all types of houses, site conditions and price ranges. Call (203) 938-0159 or write
E-mail: inquiries@joanrothenbucher.com
the design process
Consultation: A design consultation begins with a walk around your property. Joan listens to your needs, budget and tastes and offers creative design suggestions to achieve your vision. Simply call (203) 938-0159 or email inquiries@joanrothenbucher.com to arrange an appointment at your convenience (weekends are fine).
Site measurement: The next step is typically to prepare a design plan. This may be a master plan with several different design solutions for your entire property or can focus on a specific area or areas. A base plan is created locating existing features of your property: retaining walls, utility pads, septic tank and field, large trees, terraces area, existing planting beds, property boundaries, house with doors, windows and road, driveway and parking area.
Optional conceptual design development and preliminary plan: With larger design projects, the next step usually includes preparing several conceptual design solutions. These conceptual designs will layout the shapes of new planting beds and hardscaping elements such as walkways, terraces, walls, fences, driveways and parking areas. We would meet to go over the designs, get your feedback, select options and make any adjustments to the design concept.
Design plan with cost estimates: Prepare drawings that would include specific plant locations and quantities and more specific details on the masonry, fencing and driveway layout. Create a list of suggested plants with quantities, sizes and attributes. Prepare a detailed cost estimate of hardscape (masonry, fencing, etc.) and plantings. The estimate will be broken down into sections and includes alternate cost options. We then meet to review and discuss the design.
With a completed design, you have a roadmap for managing your landscape project. You can implement it in stages or do the project all at once. While most of our design customers do use us for installation, you are under no obligation. We have a highly qualified professional installation team with years of experience in masonry, planting and fencing projects. We can also recommend and supervise other contractors, such as tree services, irrigation or driveway installation. Browse through our portfolio for an idea of what we've done already - and just imagine what we could do for you.
Contact Info
We offer residential landscape design and installation services throughout Fairfield County, Connecticut. Our goal is to make your property more attractive and usable with a cost effective solution that meets your needs.
Joan Rothenbucher
Landscape Design
145 Simpaug Tpke
Redding, CT 06896


Connecticut Licensed Contractor #555210

Phone: (203) 938-0159


E-mail: inquiries@joanrothenbucher.com